Aluco Skylight Therm
Skylights With Thermal Insulation
ALUCO SKYLIGHT THERM skylights with thermal insulation represent the highest quality, efficiency, and level of innovation among continuous roof skylights!
The growing demand for thermally insulated roof skylights has been driven by an amendment to the regulations on the technical requirements for buildings and their locations. This necessitated modifications in designs and materials to enhance the thermal performance of buildings, in particular.
These changes aim to improve user comfort, reduce operating costs, and minimize pollution generated during heat generation.
To meet these demands, we have designed a modern roof skylight system, ALUCO SKYLIGHT THERM, which complies with all the aforementioned requirements.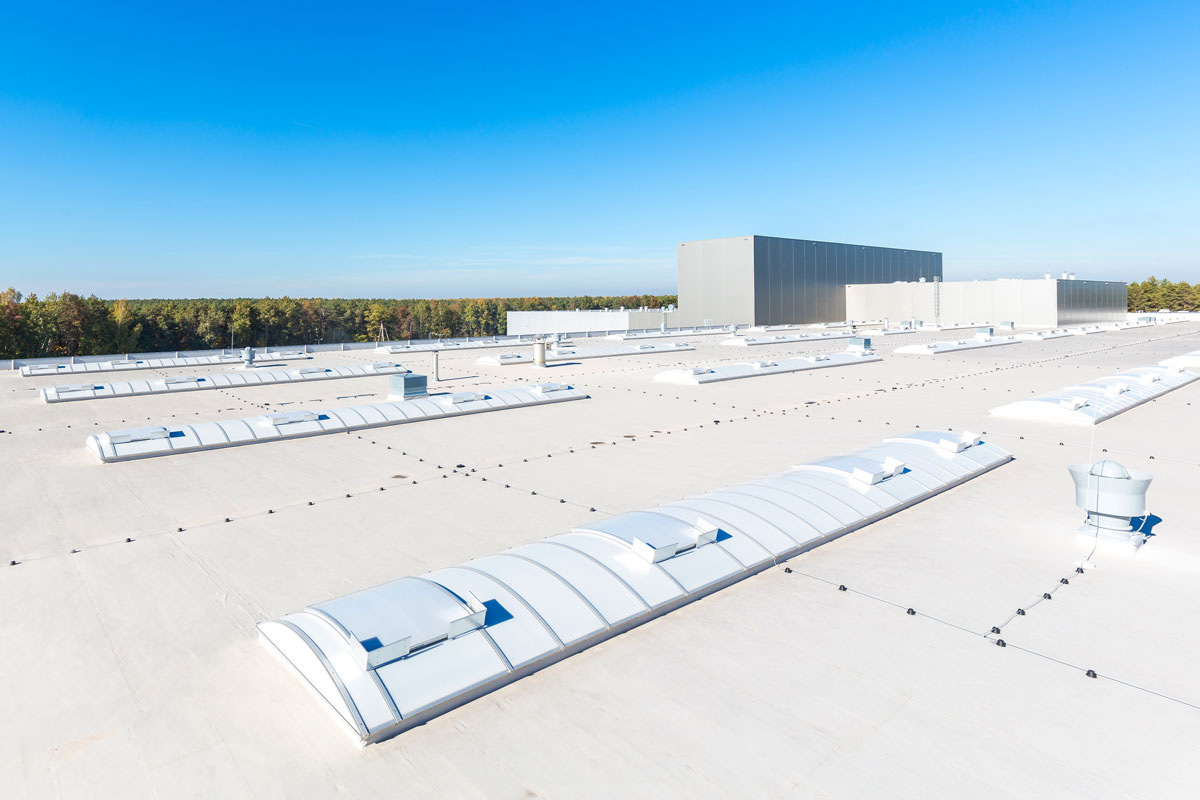 The concept behind this innovative solution is to eliminate thermal bridges at connections of fillings in barrel vault skylights and flat skylights. A distinctive feature is that they are filled with transparent or translucent plastic components. For most thermally insulated roof skylights, including ALUCO SKYLIGHT THERM, polycarbonate panels are the main type of filling. Differences between individual panels may concern their thickness and internal structure. Other options include cellular polycarbonate panels with aerogel filling, ensuring excellent thermal performance.
Our insulated skylights are made of commercially available Aluminum profiles with modern thermal breaks to eliminate thermal bridges. Thanks to suitable polycarbonate panels, thermally insulated skylights from Aluco achieve a very low heat transfer coefficient for the entire space divider.
ALUCO SKYLIGHT THERM thermally insulated roof skylights have a very low heat transfer coefficient, approximately:
U < 0,5 W/(m²K)
Our THERM skylights have been designed to ensure the highest possible thermal performance.
Download The Brochure
Download our PDF brochure to find out more about the Aluco Skylight offered by Aluco System.
Explore ALUCO SKYLIGHT THERM
ALUCO SKYLIGHT THERM Skylights With Thermal Insulation
Main Parameters
Continuous skylights are manufactured in compliance with PN-EN 14963:2006 and carry the CE marking.
The commercially available base is made from galvanized steel, with various heights and thicknesses options depending on the skylight's specifications.
The base shape resembles a channel section, with the bottom flange having a width of 50 mm or more.
The base of the continuous skylight is designed for installing thermal insulation with varying thicknesses, depending on the design requirements.
The structure of the continuous skylight is composed of high-quality aluminum profiles with integrated thermal barriers, ensuring excellent thermal insulation, air-tightness, and efficient water drainage to the outside.
Skylights are filled with panels or sets of cellular polycarbonate panels, classified as BRoof (t1) with panel thickness up to 50 mm.
The skylights with thermal insulation have a lower weight compared to glass skylights while offering similar technical specifications.
Insulated industrial skylights have the highest safety classification for fall protection (SB 1200) and do not require fall protection grating.
They exhibit excellent resistance to loads.
Resistance to upward loads: UL 2500.
Resistance to downward loads: DL 2500.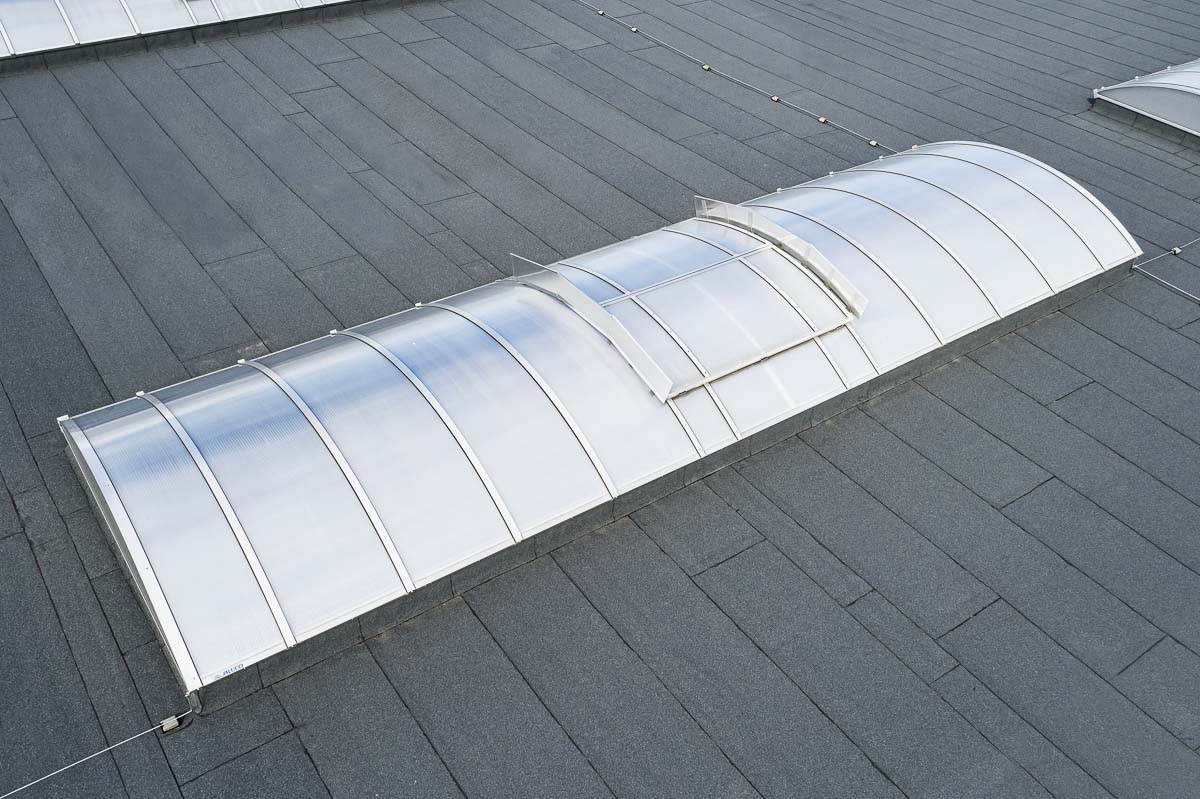 Heat Transfer Coefficient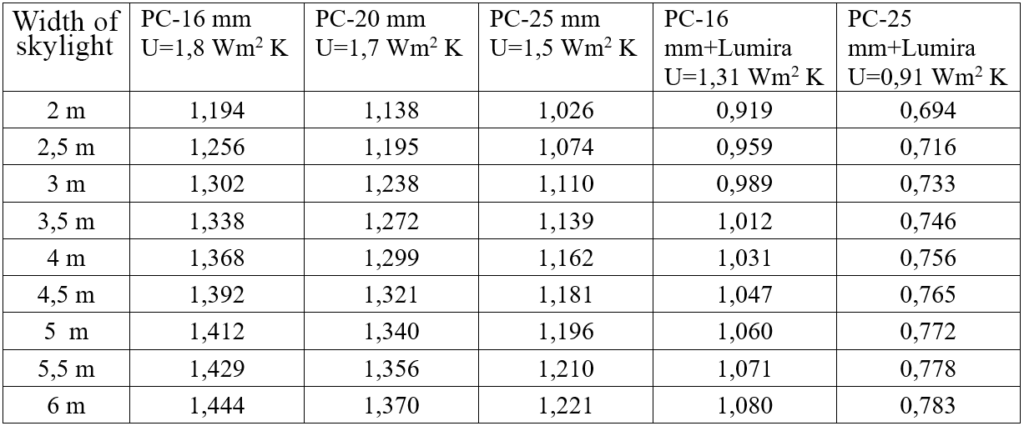 Heat transfer coefficient of barrel vault skylights with a length of 10 m, a base with a height of 65 cm and 10 cm of thermal insulation + 2 cm of XPS insulation.
Note! The U coefficient varies depending on the height and width of the base.
How Can You Save?
To easily select bridge-free skylights and calculate the heat transfer coefficient, the Kielce University of Technology has developed a dedicated calculator. By accurately determining the heat transfer coefficient for the barrel vault skylight, you can calculate the amount of energy saved.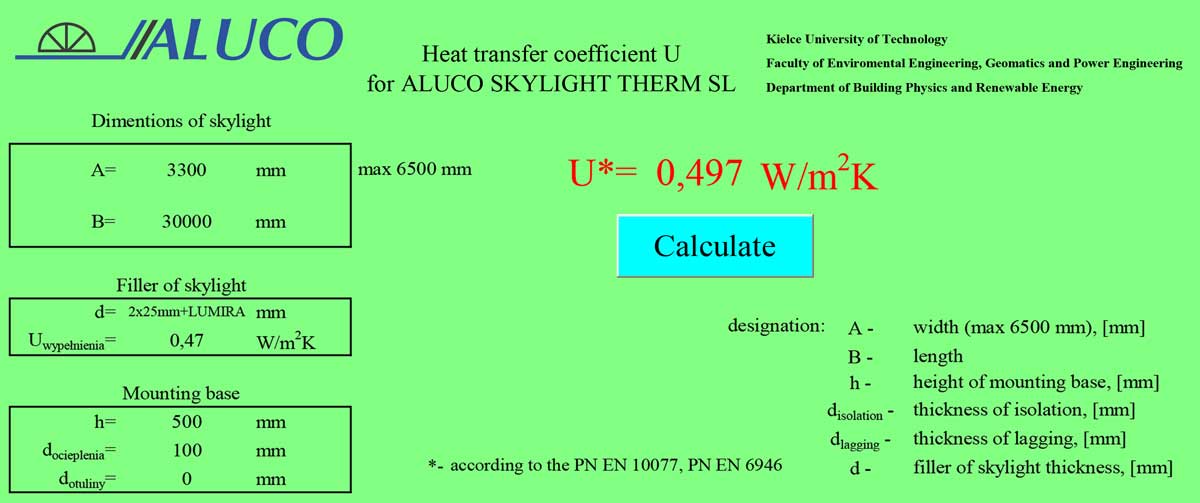 The calculations of the heat transfer coefficient in the calculator are consistent with PN-EN 10077 and PN-EN 6946 standards. They also take into account the thermal properties of the frame and filling of the roof skylight, as well as linear thermal bridges. The user can enter the dimensions of the skylight to be installed and calculate the heat transfer coefficient.
Options
Continuous barrel vault skylights can be provided with dedicated exhaust vents or smoke vents.
Insulated continuous skylights can be provided with ALUCO SAFETY GRID fall protection grating.
Excellent light dispersion achieved thanks to the filling of the skylights with polycarbonate panels with aerogel.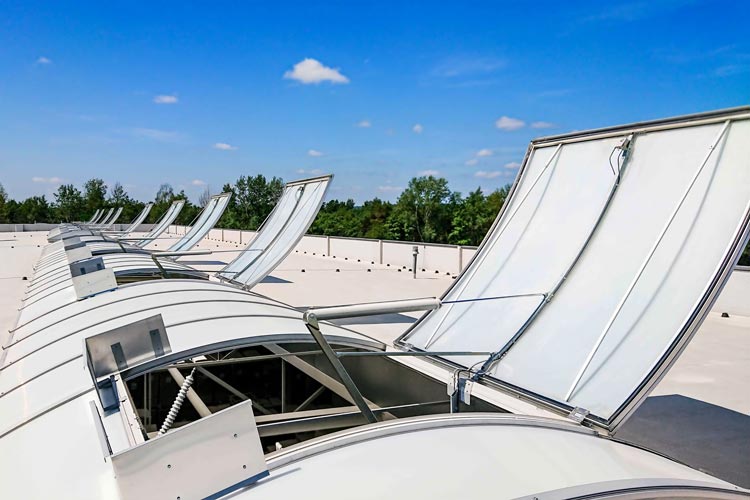 Thermally Insulated Roof Skylights
Applications
Facilities with increased thermal insulation requirements
Swimming pools (when panels with aerogel are used, the skylights are resistant to mould and fungi)
Industrial halls
Sports halls
Public utility facilities
Shopping malls
Download The Brochure
Download our PDF brochure to find out more about the Aluco Skylight offered by Aluco System.
Request a Quote
Contact us if you want to get a precise quote for your project or if you need more information.